Gliss Kur Oil Nutritive
Product Name:
Oil Nutritive
Brand:
Gliss Kur
Rating: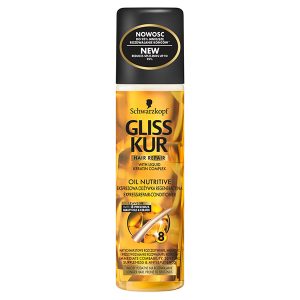 Schwarzkopf knows how to take care of hair of demanding women. It has created Gliss Kur Oil Nutritive Express Repair Conditioner to meet the needs of lovers of perfectly styled hairstyles. The cosmetic brings immediate effects which turn into spectacular after longer use. It is a bi-phase product meaning it consists of two layers: oily and watery.
Gliss Kur Oil Nutritive contains as many as eight oils. One of them is argan oil – the most precious one. It provides hair with deep nourishment, moisture and repair. It will surely help dry, damaged, dyed and long hair. Moreover, it soothes sensitive and dry scalp. Gliss Kur Oil Nutritive makes detangling easier and speeds up blow-drying. It protects hair ends from damage. Also, it nourishes internal hair structure, strengthens hair bulbs and follicles, closes hair cuticles. Additionally, the cosmetic makes the strands smooth, shiny and soft.
Have it ever crossed your mind that easy application should be one of the inseparable qualities of every hair product? Gliss Kur Oil Nutritive definitely offers this property. All you have to do is wash and gently towel-dry your hair before the application. Remember to shake the bottle before use so that the two phases can blend. Then, spray your hair – hold the bottle more or less six inches away from your hair. Detangle the strands thoroughly with a wide tooth comb. Let the product dry off; don't rinse it. Keep in mind that only regular use is going to give you dream effects. Be careful during the application: if the product gets into your eyes, it can cause irritation. Remember also about proper storage. Gliss Kur Oil Nutritive should be kept away from the light and low temperature. Keep the bottle in vertical position to avoid spilling.