Kerastase Ultime Elixir
Product Name:
Ultime Elixir
Brand:
Kerastase
Rating: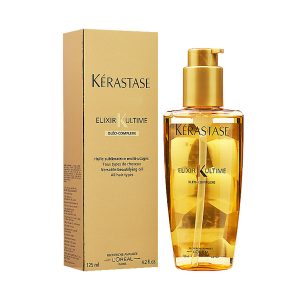 Kerastase Ultime Elixir hair oil is one of the cosmetics created by Kerastase Paris. It is a part of Elixir Ultime collection. Apart from the oil, the series offers two more products: hair and scalp cleansing shampoo and a conditioner containing precious ingredients, including argan oil which is regarded in the world of fashion and beauty as the best hair care substance.
The main task of Kerastase Ultime Elixir is styling the hair. The cosmetic tames unruly strands, helps to style every hairstyle, smooths and reduces frizz. Regular use makes hair tamed, manageable and easy to detangle. We can say goodbye to tangles and split ends. Moreover, Kerastase Ultime Elixir makes hair shiny and adds lightness. The scalp and strands are nourished and protected from UV radiation, air pollution and other harmful factors.
Kerastase Ultime Elixir can be applied in three ways. You must admit that there is no other conditioning cosmetic as versatile as Kerastase oil. You apply a few drops of the cosmetic to damp hair before styling. You can apply bigger amount of the product to hair ends. You can also apply the oil after styling to set the hairdo and add shine. Argan oil cosmetic can also be used in daily hair care routine. In this way, we protect our strands and scalp, nourish the structure of all hair inside, smooth and add healthy shine.
Kerastase Ultime Elixir offers ingredients that are very important to the health of hair and scalp. These include: corn oil, argan oil, pracaxi oil, camellia oil. They provide shine and non-stop protection, enhance hair resistance and nourish the strands. Kerastase Ultime Elixir comes in 125 ml bottle with a pump. Such amount of the cosmetic will hold out for months. The product is clear but has a delicate flowery fragrance.