Nanoil Pure Argan Oil
Product Name:
Nanoil Argan Oil
Brand:
Nanoil
Rating: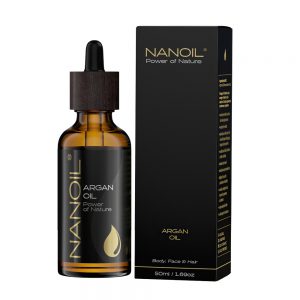 Nanoil Argan Oil is a product of the highest quality that keeps receiving high notes and positive reviews as both a hair conditioner and hair growth boosting treatment. Another positive thing to mention is that Argan Oil can be used to pamper entire body, face and fingernails.
Nanoil Argan Oil – Effects
This is the best oil to condition hair because it's able to boost all hair types equally well. Basically, it's one of the most effective and best-working natural cosmetics that knows how to restore good looks even to extremely damaged, thinning and distressed hair. It's a good idea to reach for this natural oil if you're about to begin your journey with hair oil treatment. Argan Oil affects hair bulbs, combats hair thinning, stimulates hair growth, boosts shine and increases hair elasticity.
Beauty Argan Oil by Nanoil is a versatile, universal and effective cosmetic. It's the essence of everything what argan oil has to offer: it's full of plant sterols, fatty acids, flavonoids and vitamins. This is the highest quality product, unrefined, cold-pressed, bio. Last but not least, argan oil that is closed in an elegant dark bottle bears Ecocert label.
Nanoil Argan Oil – Application
to dry hair
to damp hair from mid-lengths down
to hair ends only
for dry hair oil treatment
for wet hair oil treatment
Fun Fact!
Beauty Argan Oil by Nanoil is an universal cosmetic – perfectly suitable for being applied in the form of face serum, body balm, hand cream and nail regenerating oil.
What does Argan Oil Nanoil contain [ingredients]
INCI: Argania Spinosa Kernel Oil
The composition of this product is entirely made of argan oil. It's quality is proven by Ecocert label, it's unrefined and cold-pressed. Owing to this, the oil preserves the maximum of its nourishing substances extracted from Argania Spinosa nuts.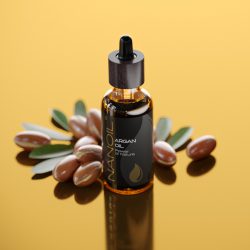 Beauty Argan Oil by Nanoil has:
linoleic acid (omega-6) – takes care of high porosity hair
oleic acid (omega-9) – takes care of medium porosity hair
vitamin E – antioxidant
carotene – UV filter, stimulates collagen production
squalene – moisturizes, improves condition of hair and scalp
butyrospermol – sun protection
How to apply Nanoil Argan Oil?
Its popularity is owed to the fact that cosmetic argan oil can be used in numerous ways. The application to hair itself may take a few forms: as an oil used for hair oil treatment, heat protection serum, regular conditioner and leave-in lotion. Additionally, argan oil is suitable to be used as a face serum, anti-ageing oil, sun protection oil, nail conditioner and a cosmetic aiming at fighting back cellulite.
You can use it anytime and anyhow you only want to – either solo or combine with other oils/cosmetics. This is exactly what makes the oil top-rated. High notes are given for its versatility that corresponds to both the effects it produces and our expectations. This multipurposeness of Nanoil Argan Oil took it to the first place – it beat all argan oils currently available on the market.