Moroccanoil Light Oil Treatment
Product Name:
Light Oil Treatment
Brand:
Moroccanoil
Rating: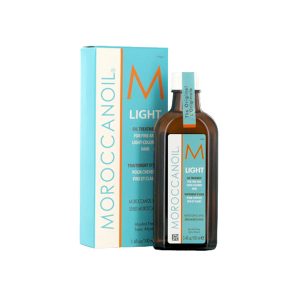 Only original Moroccan oil is the best one! Is Moroccanoil Light Oil Treatment original? The product is designed for all hair and scalp types. It is mainly recommended for those who often dye or lighten their hair. The most important ingredient of the cosmetic is argan oil which gives strands deep nourishing, strength and regeneration. Vitamin E is another equally important component of the product. It helps to keep proper condition of the hair as well as the scalp.
Moroccanoil Light Oil Treatment offers numerous precious qualities and is very easy to use. A small amount of the product is needed for every-day hair care. Remember to apply the oil to clean and damp hair. Start the application from the mid lengths of hair. Rub the bigger amount of the oil into hair ends. Those who have dry or sensitive scalp can do a quick repair treatment. After the treatment, wash hair thoroughly and let it dry off. Moroccanoil Light Oil Treatment can be added to a hair mask. In this case, you leave the oil for 30 minutes, wash it away and blow-dry the hair with cold airflow.
What results does Moroccanoil Light Oil Treatment bring? After the very first application, you can observe healthier and more beautiful hair. The condition of strands and scalp is noticeably improved; hair bulbs and follicles are strengthened and nourished. Hair seems smoother, more shiny and soft to the touch. The cosmetic adds volume and thickness. Moroccanoil Light Oil Treatment helps to style and detangle the hair, speeds up blow-drying and defines the natural colour and curl of the strands. What is more, the product protects hair from the effects of extreme temperatures, heat of styling tools and regular colouring. Argan oil included in Moroccanoil Light Oil Treatment has a positive influence on the scalp as well. It boosts hair growth, soothes irritation and eliminates dandruff.