Kemon Bellessere oil
Product Name:
Kemon Bellessere oil
Brand:
Actyva
Rating: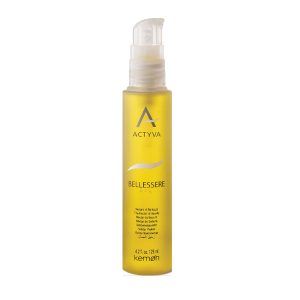 Kemon Bellessere oil by Actyva is designed for all hair types. The components include: argan oil, flaxseed oil, palm oil and active ingredients with moisturising properties. All the substances improve the condition of hair and scalp. Easy application and light consistency make the treatment pleasant and extremely effective.
Kemon Bellessere oil brings spectacular effects after the very first use. Components included in the cosmetic condition hair as well as scalp. It makes the strands soft and silky smooth. They become easier to brush, tame and style. The treatment gives them softness, nourishment and smoothness. Kemon Bellessere provides protection from the harmful factors of the external environment, including: impurities, UVA and UVB radiation, cigarette smoke, changeable weather conditions. Argan oil will present us with deep conditioning and very good protection. The oil is rich in vitamin E and fatty acids which make hair and scalp healthy and beautiful. Other ingredients provide smoothness, moisture and nourishment.
Kemon Bellessere hair oil can be applied before hair washing. You should brush the hair and divide it into sections for easier application. Leave on the cosmetic for 15 minutes, wash it away with a shampoo suitable for your scalp type and apply your favourite conditioner. You can also apply Kemon Bellessere oil to washed and damp or dried hair. Rub a few drops into the strands and detangle with a wide tooth comb.
One packaging of Kemon Bellessere hair oil offers 125 ml of the cosmetic. Such amount holds out long. The bottle has a pump which makes every application easy. Kemon Bellessere has a light yellow colour and very nice fresh fragrance which lasts on hair long.