Orofluido beauty elixir
Product Name:
Beauty elixir
Brand:
Orofluido
Rating: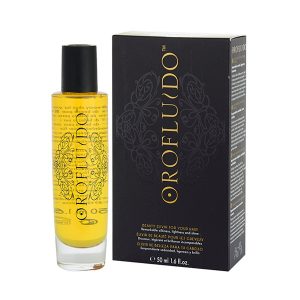 Orofluido hair oil is designed for all hair and scalp types. It contains three cosmetic oils: argan, cypress and linseed. Each of them cares about hair in its own way. Argan oil plays the key role in the product. It has all ingredients which are essential to hair and work both inside and outside of hair structure. Light formula of the product enhances the conditioning.
Orofluido is an oil which deeply conditions the hair and takes care of the scalp. It is absorbed very quickly and penetrates into the deepest structure of the strands. The product doesn't weigh the hair down, doesn't make it sticky and leaves no greasy layer on its surface. The oil makes hair shiny, smooth and tames unruly strands. Additionally, Orofluido reduces frizz as well as makes strands manageable and easier to detangle and style. It speeds up blow-drying, protects strands during straightening or curling. What is more, the oil regenerates hair ends damaged due to improper brushing or unsuitable cosmetics. Orofluido oil makes hair light, shiny and its volume is doubled.
How to use Orofluido hair oil? The product can be applied to dry as well as wet hair. The dose of the cosmetic depends on the length, volume, damage and porosity of your hair. You apply the oil to the lengths; larger amount can be rubbed into ends. After more or less 30 minutes, wash the product away with a delicate shampoo and let your hair dry off.
Orofluido hair oil has an amber colour and very nice scent which resembles vanilla. It comes in a bottle decorated with an interesting oriental pattern. Two versions of the product – 25 ml and 100 ml – are available at shops, drug stores and online.