Schwarzkopf BC Oil Miracle
Product Name:
BC Oil Miracle
Brand:
Schwarzkopf
Rating: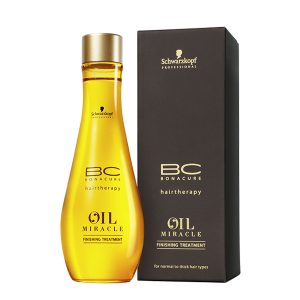 Schwarzkopf BC Oil Miracle conditioning hair oil is recommended for women but it doesn't mean that men cannot use it. In both cases it will provide equally good action and bring similar hair and scalp care. Positive opinions, easy application and immediate effects of the treatment are encouraging.
You don't even realize how many properties Schwarzkopf BC Oil Miracle offers. All women who take care of their hair will be satisfied with the performance of the cosmetic. What is it about? Schwarzkopf BC Oil Miracle conditioning hair oil makes hair shiny, strong and nourished. Strands are smooth and soft to the touch whereas the ends are regenerated. The oil makes detangling easier, helps to style hair, prevents tangles. Electrified and frizzy hair is no longer your problem. BC Oil Miracle protects from UV radiation, humidity, frosty air, hairstyling treatments and drying ingredients of some conditioning products.
Do you know which oil is going to deeply nourish your hair and scalp? Argan oil is regarded to be one of the best ones. This is the reason why it is among the components of Schwarzkopf product. It is responsible for proper moisture and condition of hair and scalp. Argan oil contains vitamin E which is called "fountain of youth". It is also a natural antioxidant which slows down ageing processes, prevents premature ageing and hair loss.
Schwarzkopf BC Oil Miracle is very easy to apply. That is why you will feel like using it all the time. What is the proper application? Apply the cosmetic to the lengths of hair; remember about hair ends. Apply the oil evenly to damp hair. Next, brush the strands thoroughly and let it dry off. After drying the hair, you can apply a few drops of Schwarzkopf BC Oil Miracle to make your hairstyle look perfect.