Syoss Absolute Oil
Product Name:
Absolute Oil
Brand:
Syoss
Rating: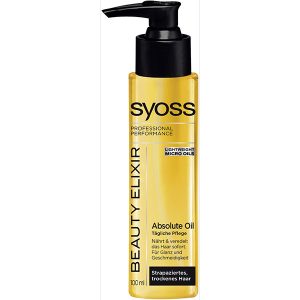 Now you probably know that professional products give the best action. Syoss Absolute Oil has been created by hairstylists. It contains argan oil and sunflower seed oil as well as silicones and other moisturising substances. The bottle has been equipped with a pump which makes every application easy.
Syoss Absolute Oil is designed for dry hair that has been damaged due to too much heat styling. If you have dyed your strands, blow-dried every day, improperly brushed or used poorly suited cosmetics, you should try Syoss hair oil. Proper level of hydration will be restored in the scalp; hair bulbs and follicles will be nourished whereas your hair will be smooth and regenerated. What is more, the product rebuilds split ends and protects hair from mechanical and chemical damage as well as harmful external factors. Syoss Absolute Oil gives the hairstyle natural shine, helps to style the strands and prevents frizz.
Before you start the treatment, choose a suitable amount of Syoss oil. Why is it so important? If you apply too much of the oil, your hair can get oily whereas the scalp can produce excessive sebum. This may lead to the occurrence of dandruff. Besides, hair will be weighed down whereas styling – very difficult. Therefore, you should apply Syoss Absolute Oil prior to hair washing. You must remember to wash it away thoroughly with a purifying shampoo containing SLS or SLES. It is not recommended to use the oil as a leave-in conditioner.
Syoss Absolute Oil comes in 100 ml bottle. One packaging holds out for months. The product has a very dense consistency, light yellow colour and sweet fragrance. The bottle is made of hard and transparent material, which allows you to see how much product is left.